March Madness: A what if
April 4, 2020
Due to COVID-19, on March 12, 2020, for the first time ever, NCAA's men's and women's March Madness was canceled along with all other NCAA winter championships and all NCAA spring sport seasons. On the day that would have been the concluding game to the big dance, we look back at what may have shaken out to be in 2020's March Madness. 
Title Favorites:
Kansas, Baylor, Gonzaga, Dayton, Duke, Kentucky, Michigan State
This group has a long track record of success in March; however, one team is unlike the other, the Dayton Flyers. Dayton shocked the world this year, finishing with 29 winning games with losses coming only against another title favorite, Kansas, and Colorado with 21 winning games, both in overtime. Per usual, Kansas, Gonzaga, Duke, Kentucky and Michigan State all showed very strong seasons. While a young Baylor team proved to many that there is nothing holding these guys back. 
Title Hopefuls:
Seton Hall, Louisville, Maryland, San Diego State
Just a step below the favorites are these four universities with phenomenal years. Seton Hall had one of their best seasons ever behind Big East Player of the Year, Miles Powell. Louisville and freshmen star David Johnson hoped to roll their ACC momentum into March. Maryland without a doubt is a team that is capable of beating anyone in the tournament by a large margin, and after a 26 game winning streak, San Diego State showed the nation that when they are hot they are HOT. 
Do Not Sleep on These Guys: 
Auburn, Creighton, Florida State, Villanova
Although these guys are not talked about like some of the other schools I have mentioned above, the damage would've been done. Florida State's defensive capabilities are the only one of its caliber in the nation. As well, Auburn and Villanova both have shown their ability to win huge games and Creighton finished their regular season on an absolute tear. 
My Final Four: Kansas, Florida State, Kentucky, Louisville
My National Championship: Florida State Seminoles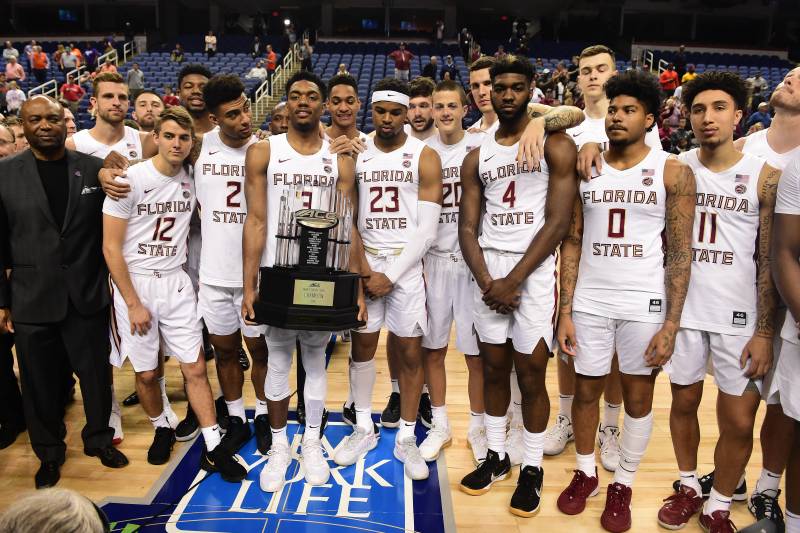 Why Florida State? Leonard Hamilton, the head coach of Florida State, has never been seen as a premier coach of the league until now. The rise of the gritty defensive game proves to be too much for opponents. I would've expected Florida State to score a majority of their buckets from beyond the arc or on the fast break. With Devin Fassel and Trent Forrest leading the way, the Seminoles would've run the table and be crowned the kings of college hoops in 2020.